This post was written before it was announced that Canadians are the second happiest people in the world next to the Danes!
Ponto in acrylic


Thanks to all the wonderful artists at Paint Party Friday who gave me input about their computers!! I'm looking for deals and will let you know when a purchase is made! I'm also joining art therapists Weekend reflection this week!!
Do you think some people are just born happier than others?

I'm not too sure about that, but I know I wasn't a happy child. There was just too much discipline for no good reason! Oh there were many happy times but I felt sad A LOT...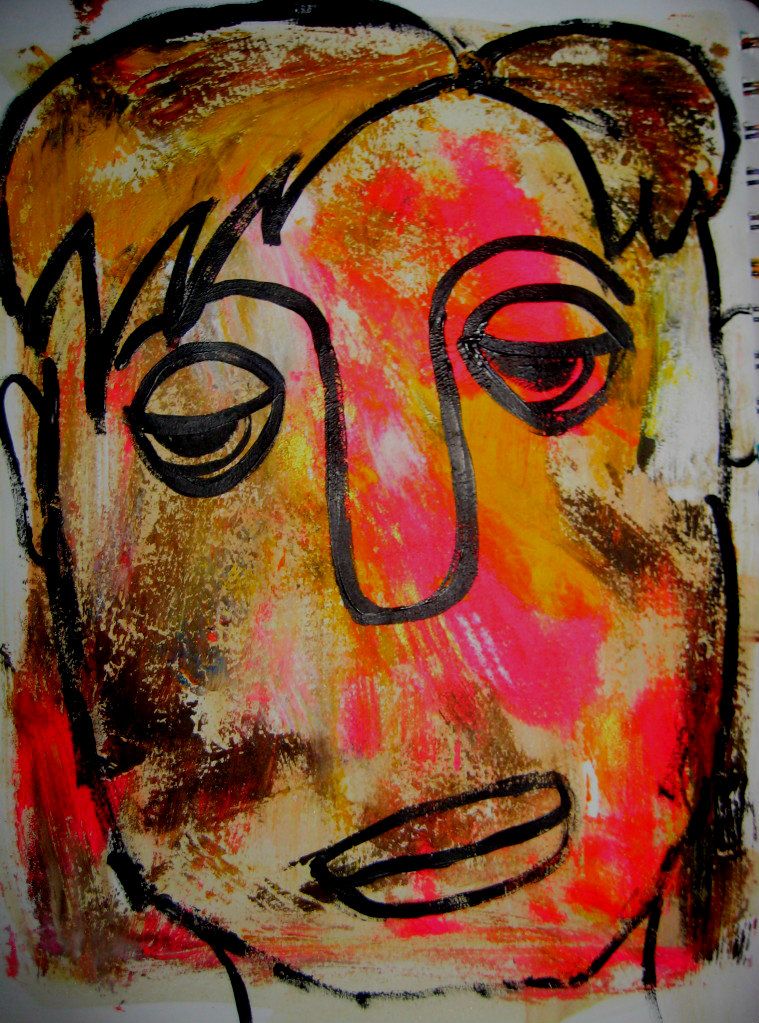 Andy is acrylic the rest are digital color edits
I'm grateful that my daughter boasts about her amazing childhood, of course it helps when you have a full sized
Sesame street

playhouse
in the dining room instead of a dining table. It helps that your mom is a squirrel who takes you all over the city on a search of your favorite blue Slurpees, or takes you for a walk at bedtime on the first snow fall!!!
This is Dooley in acrylic the rest are digital color edits
Who wouldn't be happy about their childhood, with a goofy mother who dives to the bottom of a huge bin of shoes to find a lime green shoe to match your outfit, or shows up at the school with her face and hair sprayed gold wearing a cardboard gold sun around her neck, unrecognizable, draped in gold fabric dancing on request in front of the whole school! Okay that might not have been her favorite moment! But she sure loved trick or treating with me wearing that crazy costume, and I never told any of the kids at the school who I was, while dressed like a Sunshine!!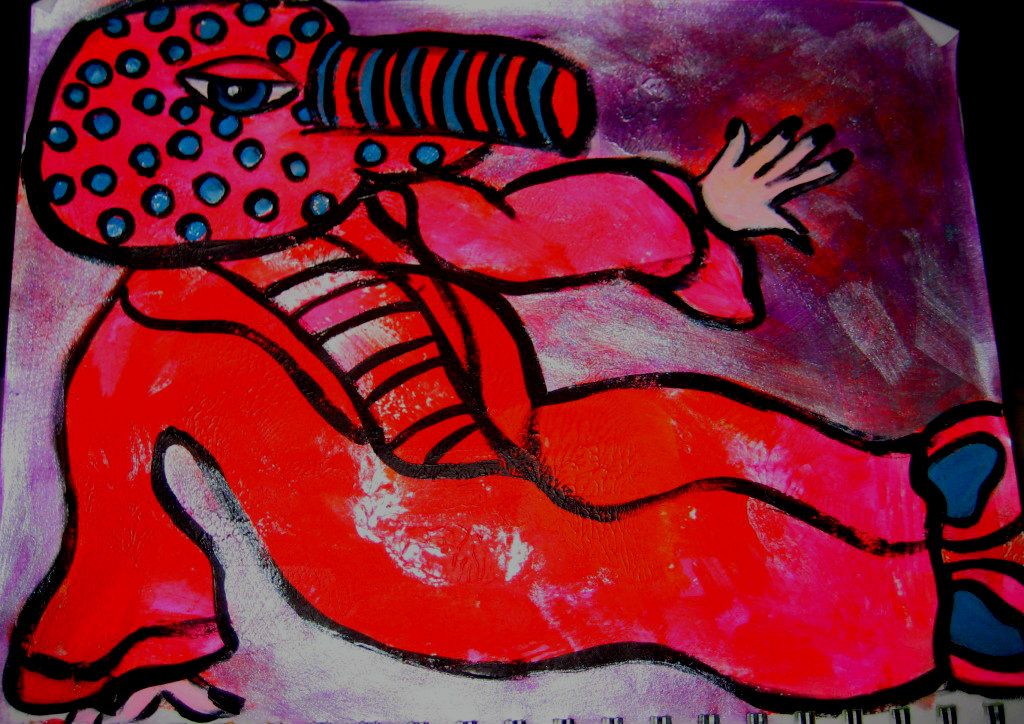 The original Mackie in acrylic the others are color edits
Those were very superficial reasons to like your childhood, but we did so much together, from playing cards and games, to filling the car with kids to run around in the park. We were always doing something fun whether is was hitting up a rink to skate, or a pool to swim!! Life was full of excitement!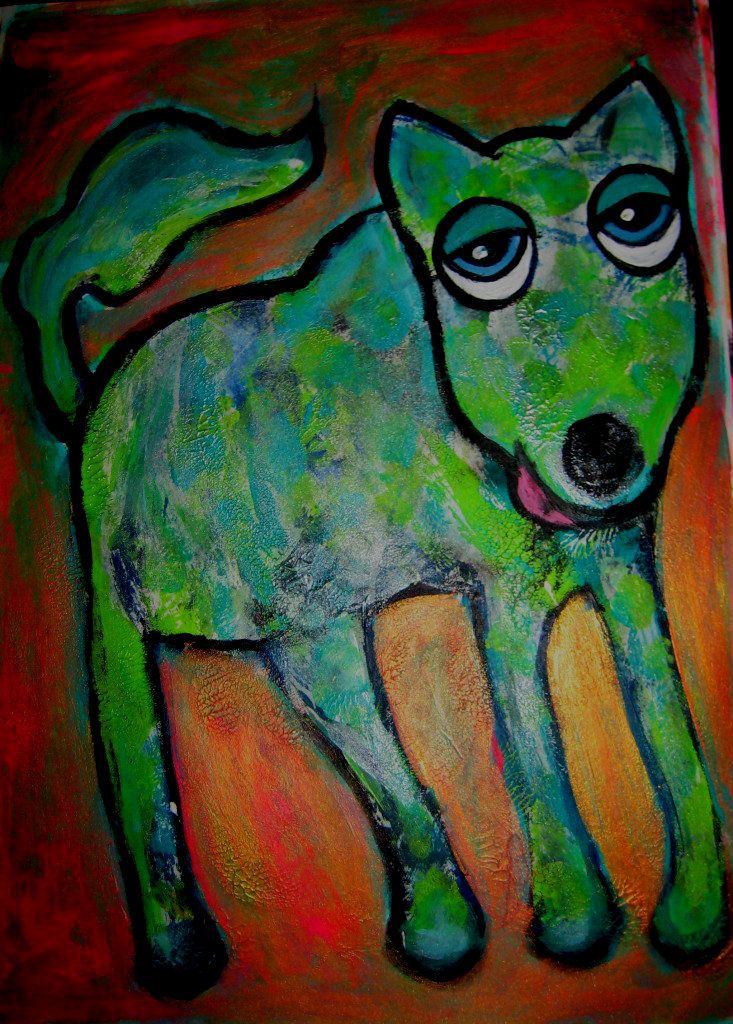 Original Koda in acrylic, the rest are digital edits
At ten she was the victim in our ugly divorce. Things were never the same for her. I tried to protect her, but with all that transpired it was near impossible. Nothing is ever perfect. Maybe it was better she learned that early. Life is like a roller coaster with ups and downs. Thankfully this is a happier time for both of us!
Finding bliss in creativity, having a great relationship with the kids makes me happy!! Plus I really do choose to be happy despite many days struggling with aches and pains.
However there are times when I ire, albeit very rare, it manifests in my being very withdrawn. I'm either so mad, or so hurt I can't speak. Mostly I feel hurt. When I go there, my mind is all over the map. Thankfully I can reason it out to a quiet resolve. However I have been known to be bought off with pineapple and strawberries dipped in chocolate, and a brand new pack of fine point colored sharpies! Yep, feed me, and throw some art supplies in my cage and I'm good to go!!!
Token an original Acrylic
How do you work through your angry hurtful feelings?
Life is never perfect but there are all kinds of awesome things that bring joy!!! Those who truly love us know when our heart breaks and usually know how to fix it, or at least quiet the angry thoughts. Even if they have the last word that makes you laugh your head off!! You know who you are cupcake!!
Seriously though I was never one to be too stern. When Cupcake was a kid I set the rules," MY HOUSE, MY RULES" to the kids who didn't have good manners. For the most part I was pretty soft. I believed in correcting bad behavior rather than corporal punishment. Every time I tried being stern my daughter laughed at me... it just didn't fit. I was way too fun to be angry.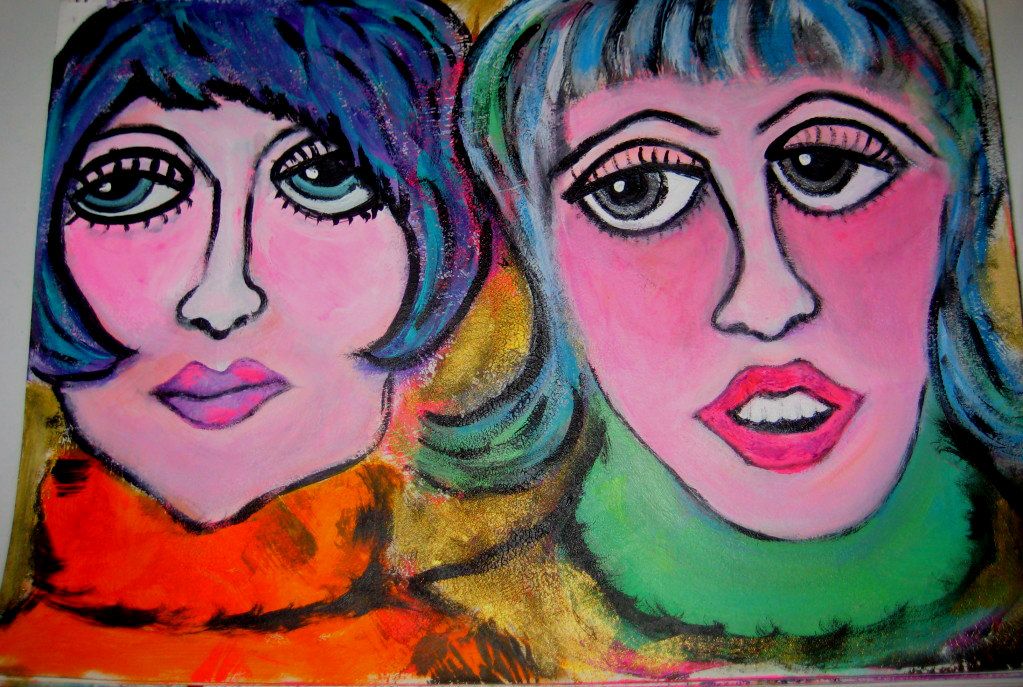 Original Forever Friends in acrylic
I have a friend much like me she rarely angers. In the first fifteen years I'd known her I had never seen her mad. One day she snapped and was talking fast and stern, telling people to basically poop or get off the pot... I just howled. I think it was a PMS moment for her.... then I understood why my kid would always laugh at me. Anger just didn't suit my friend. It looked funny on her!! I still giggle and tease her about it!!
Are you scary when you anger, or funny?