I often get ideas for blog posts by answering my comments! Someone will post their sentiments and it prompts a new idea! That and other influences provoked this post.
I found myself painting this gloomy cartoon last week after listening to way too much of an American news station. I'm a curious Canadian who likes to stay in the loop, so that's why I watch it!! However it can be so much negativity. Even though I'm a News buff, I banned myself from news for a few years... I didn't miss it! A few big events and I got sucked back in again!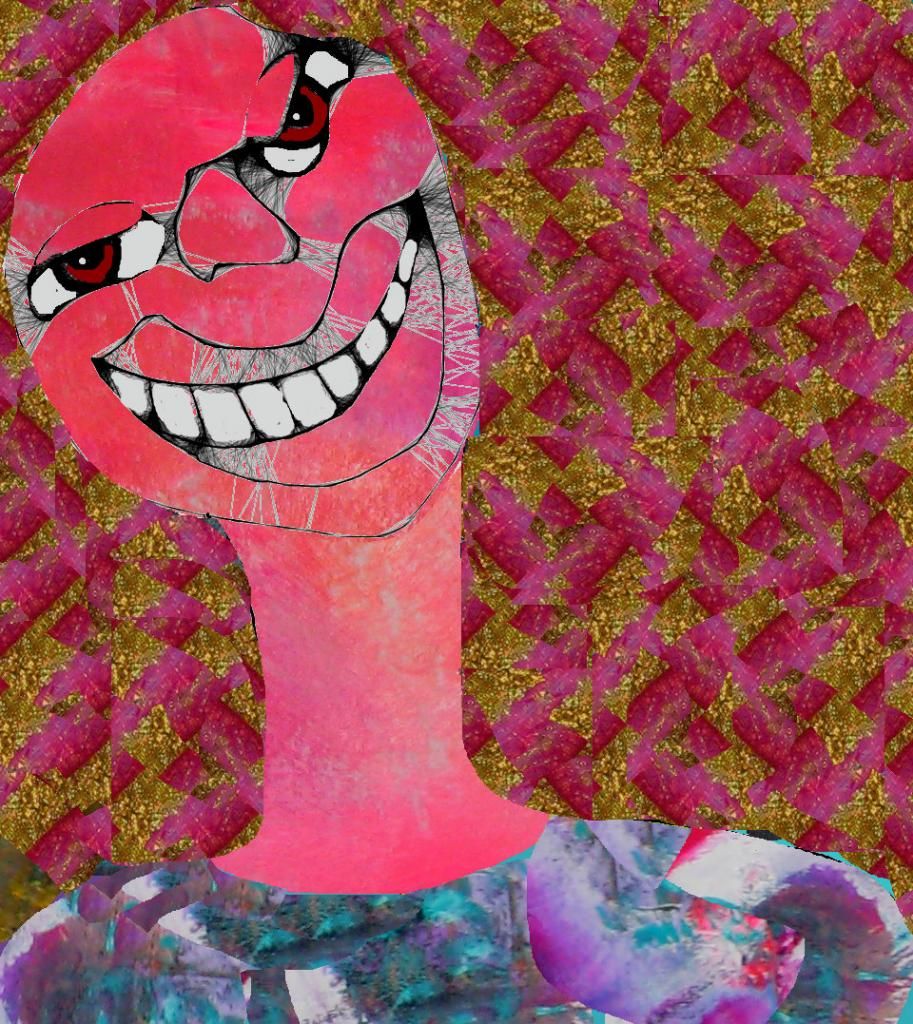 Done in scribbler, the rest is digitally collaged
After these few ugly pieces of art came to roost I decided I might need to step away from the News for a bit. It's obviously affecting me!! Although I also don't like to stick my head in the sand I may need to limit myself. But News is not the only negativity on Television. Sometimes even family shows express the evolution of negativity in our culture.
We used to watch that popular talent show "Idol", but this year I only watched a couple of episodes, the kids watched none of it! I've read a rumor they are letting the judges go, rightfully so, they have terrible chemistry as a panel! Idol is a talent show that consists of some tone deaf contestants being publicly ridiculed during the weeding out process until they find their stars!
In past years it seemed trendy to be bluntly mean and sarcastic on that show. Many of the recent judges are a little less ruthless and mean. When we first got hooked in it was the only talent show of it's kind. We love music so we succumbed. But I always refused to watch the result show (where they'd painstakingly eliminate the contestant voted off by the TV. audience). Forced to sing right after hearing of their demise I found it so difficult to watch. Especially when they'd already painfully extend the elimination process. I'd feel so angry watching!! Trust me, it takes a lot for me to get angry!! They purposely made those kids, and the audience, wait too long to hear the results. I just couldn't stand it. All for the mighty buck!! And that is why I switched off!! A handful go on to be big stars... yes it gives them an opportunity for exposure not otherwise afforded, but boy, it's a grueling process.
How the heck is one to gain composure to sing after being told you were voted off!! It's asinine to put people through that!! Seriously why not just throw darts at them.... The worst part is that we actively watch this and don't see it as a form of bullying.
When a contestant signs a contract to give their soul away to the tv show I'm sure they never expect how humiliating it might be!! How they could be used and abused! They have a dream....and hope they win... they probably never imagine people are going to publicly ridicule them on tv because they sing a wrong note! I imagine many very talented souls are dissuaded from trying out for those shows because they fear the humiliation! Yes a handful of people go on to be big stars...but what of the others?
Now the Voice (the newer talent show) is a different story! It's still painful to get the boot, however there is more empathy for the contestants! They have a more compassionate way of weeding out the best.. Instead of ridiculing the contestant the judges throw verbal punches at each other all in fun! A much more humane show! They pull the bandaid off quickly, it's a lot less painful to watch, as they show the the judges milling over their decision with angst! A much kinder process!! They always assure the contestant the show is their debut, a stepping stone to more!!
I love romantic comedies and joyful endings in movies! The world can sometimes be a bitter pill to swallow, so I need a good ending once in a while. I want to laugh and have a positive feeling that things can and will end well ..... maybe to counteract the News!
How about you, do you ever see acts of negativity/meanness that are so blatantly obvious to you yet others seem to readily accept as okay?
I apologize for the ugly art, I'm hoping for something much better to share next week! It's okay if I publicly humiliate myself, right? lol
This is my contribution for Paint Party Friday!