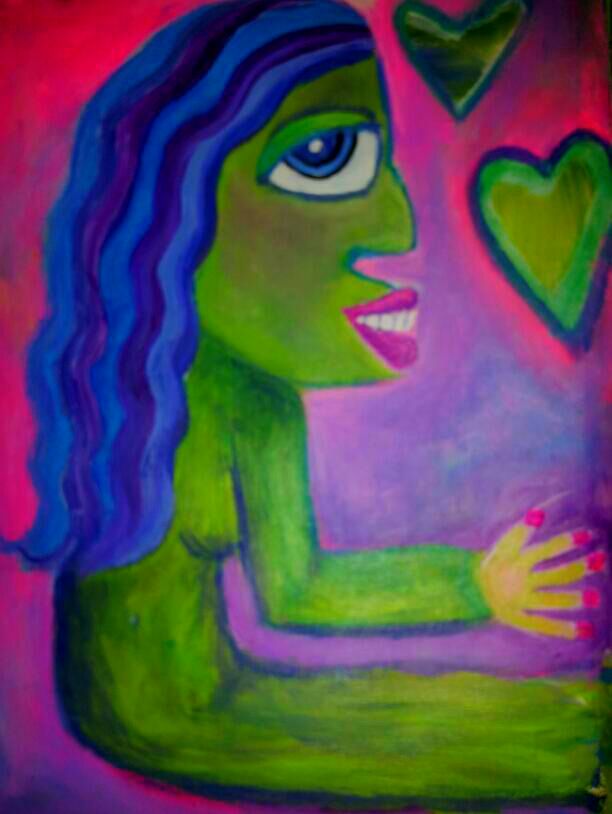 Face #22
As a young woman I was encouraged to get a good job and a house, with the promise that it would be a lucrative investment! There was never mention of getting a job you enjoyed, only one that paid well!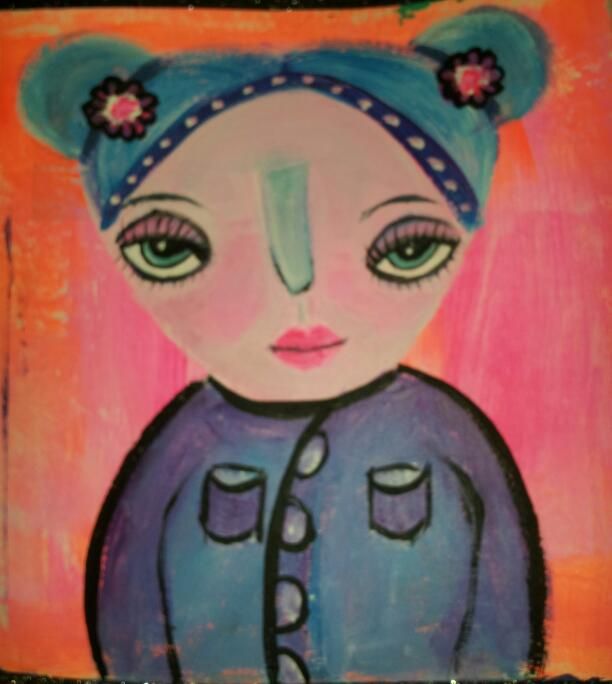 Face #23
At the beginning I was a girl satisfied with less. Always making something out of nothing on a tight budget. I had a very limited wardrobe, and rarely spent a cent on clothing or shoes. I painted furniture and rooms to spruce things up! I was sincerely delighted to live with less, until I got a union job making twice the wage, doing the exact same thing.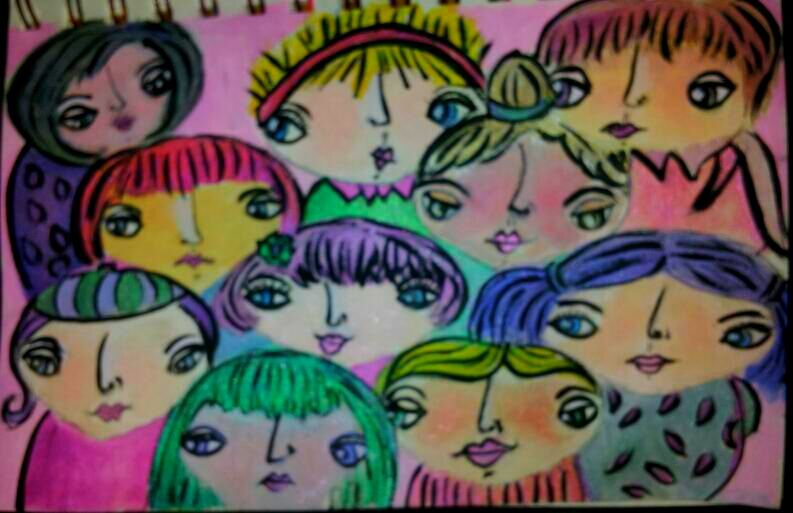 Face #26,#27,#28.#29....... done with my finally located twinkling h20's that were sitting nicely on a shelf in a painted lunch box!...yahoo!
As I heard co-workers chatting in the coffee room about their beautiful purchases I began to want more. I knew I worked very hard and deserved as much as them. It started with a microwave which ran about sixteen hundred dollars at the time.(Isn't that such a laugh now eh? Beware of upgrading high end electronics today people!!) There began my affair with "THINGS"! Enmeshed in a bland marriage I threw myself into decorating my home and buying "THINGS" to anesthetize my lonely heart!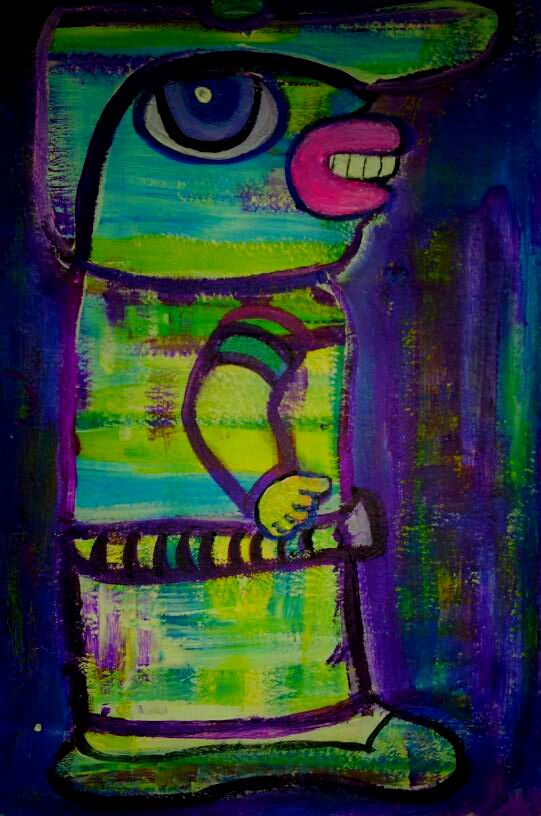 Face #24
Once all the rooms were decorated and the basement was finished I began to find fun outside the home. I had fun clothes, a fun vehicle and fun friends. I ate, drank and was merry most weekends. But the "Merry" in my life was a facade. Inside I still felt unfulfilled.... After a short separation from my husband we reunited and continued to consume. Something for him, something for me, eventually buying a bigger better forty-four hundred square foot home with a spiral staircase. Even though I felt like a queen at 29 it wasn't until my daughter was born seven months after the big move that I knew what had really been missing! I finally felt complete.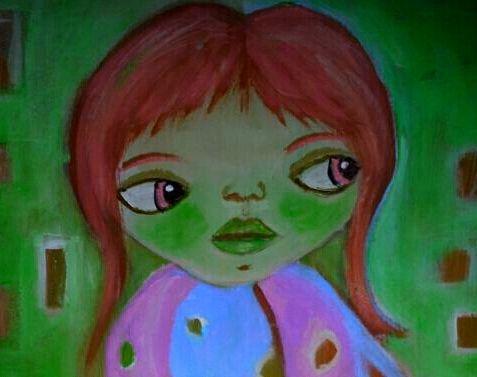 The previous years of buying was a substitute for my 12 year, childless marriage. I had never really considered being a mom until then. However, everything I bought there after was for her. Still on that dysfunctional treadmill of thought that you needed to have "THINGS" to BE happy. Since my emotional needs were never met as a child, I wanted to insure my daughters were! The first four years, my little girl had everything a princess could imagine, loads of love, lots of fun, and "THINGS"...and then, I GOT REAL! She was always a really good child and even though I didn't need to say many " No's" I knew her future world might. So I strategically started using the word "NO" so she wouldn't be too disappointed when out of my care. Happily she is still closely in my life and still rarely hears the word "NO" from me or otherwise....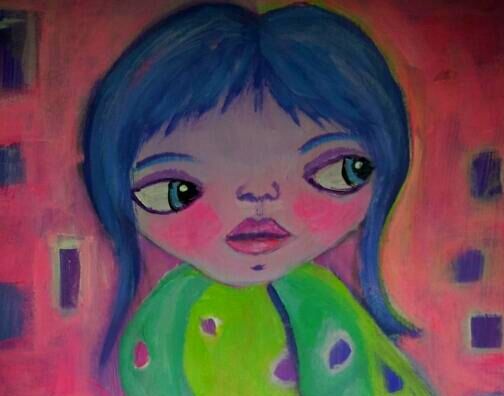 Face #25
Fast forward twenty years. After fifteen years of a physically limited lifestyle, forced fiscal restraint, a divorce, a few disappointments and loads of grief, my creative life was born! We often hear about the importance of moving past our limitations. Last week however I seem to be bombarded with the message that many wonderful things can happen within the realm of limitations. Not sure if it's what I need to hear or whether it was just a recurring theme last week!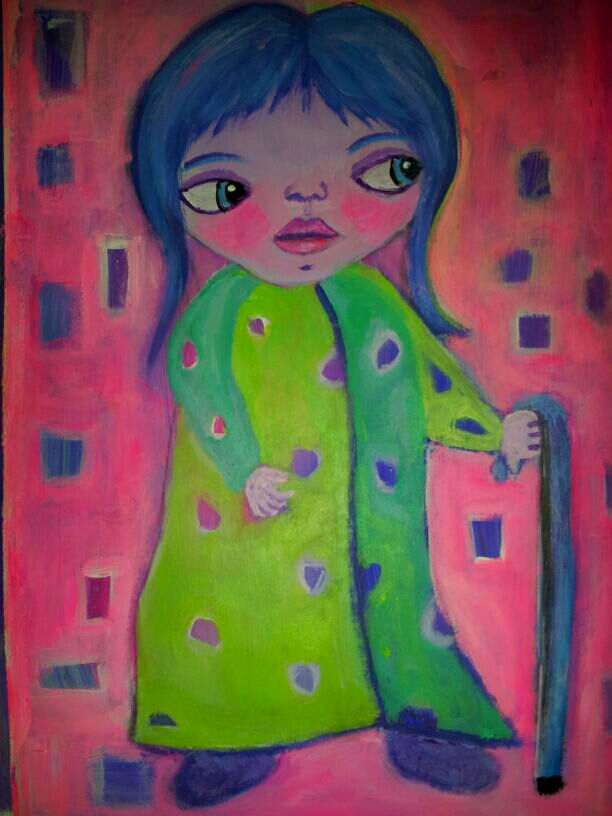 I use a cane now.

Friends and family probably wonder why I

don't feel much like having visitors. Instead I meet people outside my home, keeping dear ones close. My world is getting smaller as I pull away from my old lifestyle, yet my life is more satisfying than ever before. Within my limitations creativity flourishes....plus I've been using my cane to turn off lights, draw things to me, and threaten bullies....Just kidding about the bullies!! However I often shake my cane in the air in jest... It seems when life becomes limited new outlets are presented, new thoughts form with new avenues to be explored.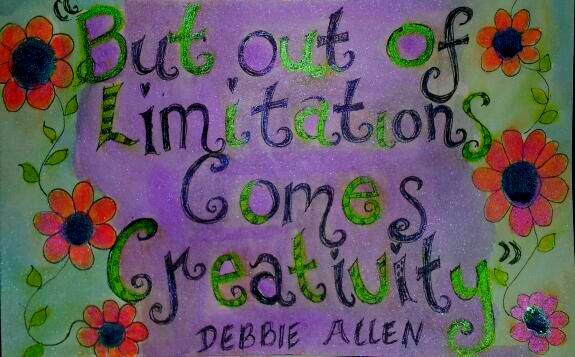 What have you learned from your limitations? Have you ever had limitations that spawned a new path in your life?
Oh and on a side note Paula from Buenos Aires has me as a guest Blogger this week featuring a few of my shoe stories on her blog

Keep it Simple make it Great!

Thank you Paula for the shout out!
This is my contribution to Paint Party Friday and 29 faces of September!