As a woman I tried to be everything
to everyone for several years!
Had I known then what I know now......
Color is not accurate on this card made for Nature Goddess. Face#12





I'd have cut a lot more corners! I'd have done a lot less cooking and a lot more creating! I'd have simplified drastically. I'd have cut stress by
buying pre-made items for parties, transferring it to a pretty dish letting people assume what they will!!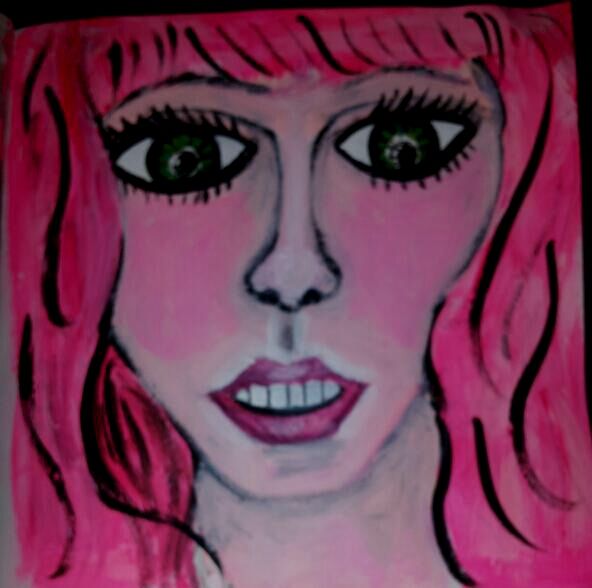 Face #13
Better boundaries, while listening to people problems, would have served me well back in the day! Drama kings and queens tended to cling to me like white fuzz balls on a black sweater, sucking me dry of empathy energy! I should have stopped wearing deodorant, or worn garlic clove necklaces to ward them off! In years past I've learned...certain people tend to repeat their drama over and over in different scenarios!! They're addicted.. if it continues, wean them off you ASAP!!
Keep all negative ones NEGATONIANS at bay!
Face #14 #15
I'd have spent less time on the phone. In today's world that would be face crack, instagram and texting...all big addictions that I'm pretty sure will cause permanent eye and neck damage. I should have used that time wiser. Scheduling "Me" time for daily creativity.... instead of staying up all night to complete redecorating and sewing projects.
Face #16
I should have refused to be a part of any family drama, and tried harder to keep hurtful things they said out of my head!
I'd have told my younger self to NEVER get involved in a three way.... fight!! Never let anyone drag you into their arguments as an arbitrator or otherwise...it's best to stay clear...nothing takes you down faster than being the go between....you will ALWAYS be used as their scapegoat. No doubt they'll misquote you too!!
Face #17
I'd tell younger women.....
Cleaning floors BEFORE company arrives is fruitless....
Most likely you'll NEED to clean them shortly after anyway,
especially when kids are involved!!
I've yet to come and visit my friends floors!
"Could a baby crawl safely on these floors?"
Face #18 Dancer
Prioritize only what is most important at the time!
Don't feel guilty if you have a new baby and don't get dressed all day....
give yourself some slack....If you have been up all night with a teething child,
cancel visits and appointments until you feel more rested normal,
if that's even possible. Treat yourself kindly!
Face #19
Dust will always be there, don't waste too much time on it...If you need to leave it longer than normal to find time....DO IT!! Never allow uninvited guests "dropper inners"....nothing worse than spontaneous company to interrupt your plans, whether it be creativity, housework, or your "ME" time!! It's rude not to call first! Don't answer your door!!..unless your guest is accompanied by a maid! You might not want to miss out on a little house keeping help.....!!
Face #20
NEVER feel you have to answer a phone call, or a door....and NEVER explain yourself. You are entitled to your privacy...whether you want alone time with a family member, to rock your baby, have a headache or play a game of scrabble...that is YOUR choice!! For heaven sakes don't feel guilty!!! It's completely wasted energy! Your home is your castle safe haven!
Face #21 Some may think you a witch! Oh well! Let them!
Don't volunteer for EVERYTHING....you are only ONE person...helping is awesome but if it takes you constantly away from really important parts of your personal life and things you love it's not worth it!! All the same people tend to repeatedly volunteer....sit on your hands once in a while!! Let others have a turn!
You do NOT have to accept every invitation.... only those invitations you know you'll enjoy and love!! The best response is " Sorry, that doesn't work for me." Most people won't ask why...but if they do, just repeat...
"it just doesn't work for me" Always give yourself an out by saying, "let me get back to you." For years I accepted invites I lived to regret.. now I give myself time to process it properly before accepting!
How many times have you been at a function and thought, "why am I here, I'm not having a good time?"
Never let a friendship be too one sided. Being generous is an amazing quality, however if the relationship is totally one sided....consider moving on to something more balanced! Some people are in our lives for a season. I tended to take so many people under my wing to help them, without expectations. Now I realize I should have sought a better balance..for my own sake!
Last of all, "Be The Queen of your life!" Treat yourself like you treat your best friend or your children.....and for petes sake, "shut that darn sabotage Gremlin up", he's a big fat liar, because you are perfect just the way you are!!!
What is your best advice for a woman trying to be everything to everyone?
My contribution for paint party friday and 29 faces of September!